BULL-BAT TIME - Walter Forbes CD


Americana roots music from a veteran folksinger

Condition: New
Price:&nbsp

$14.99
---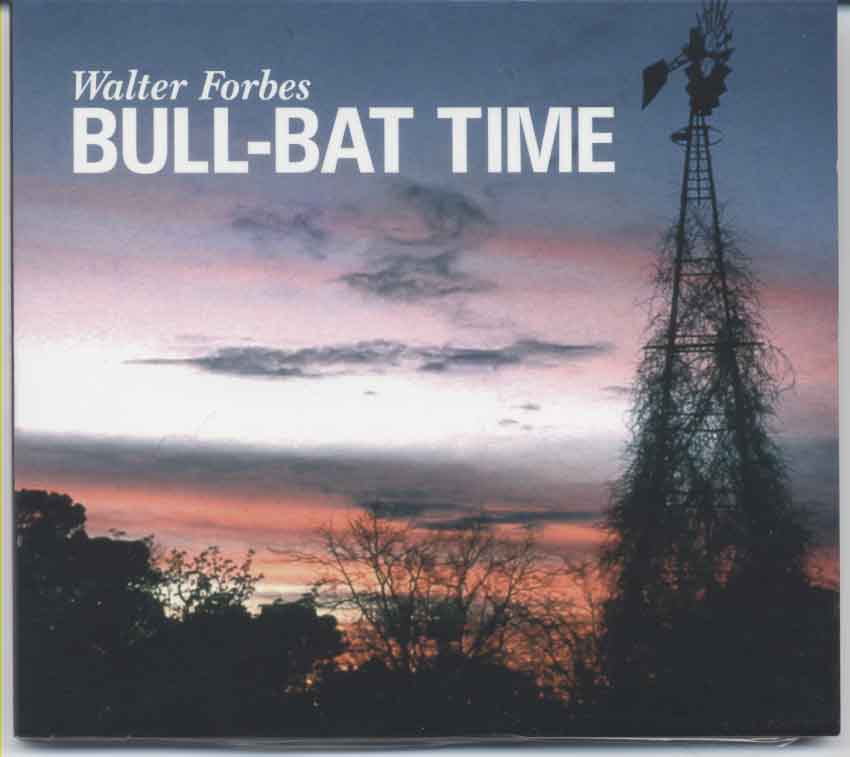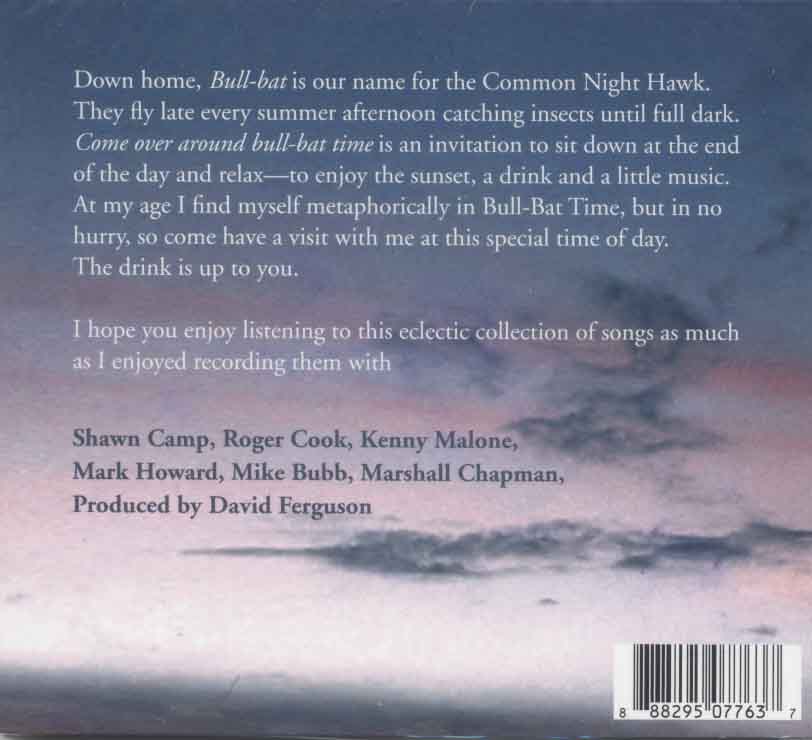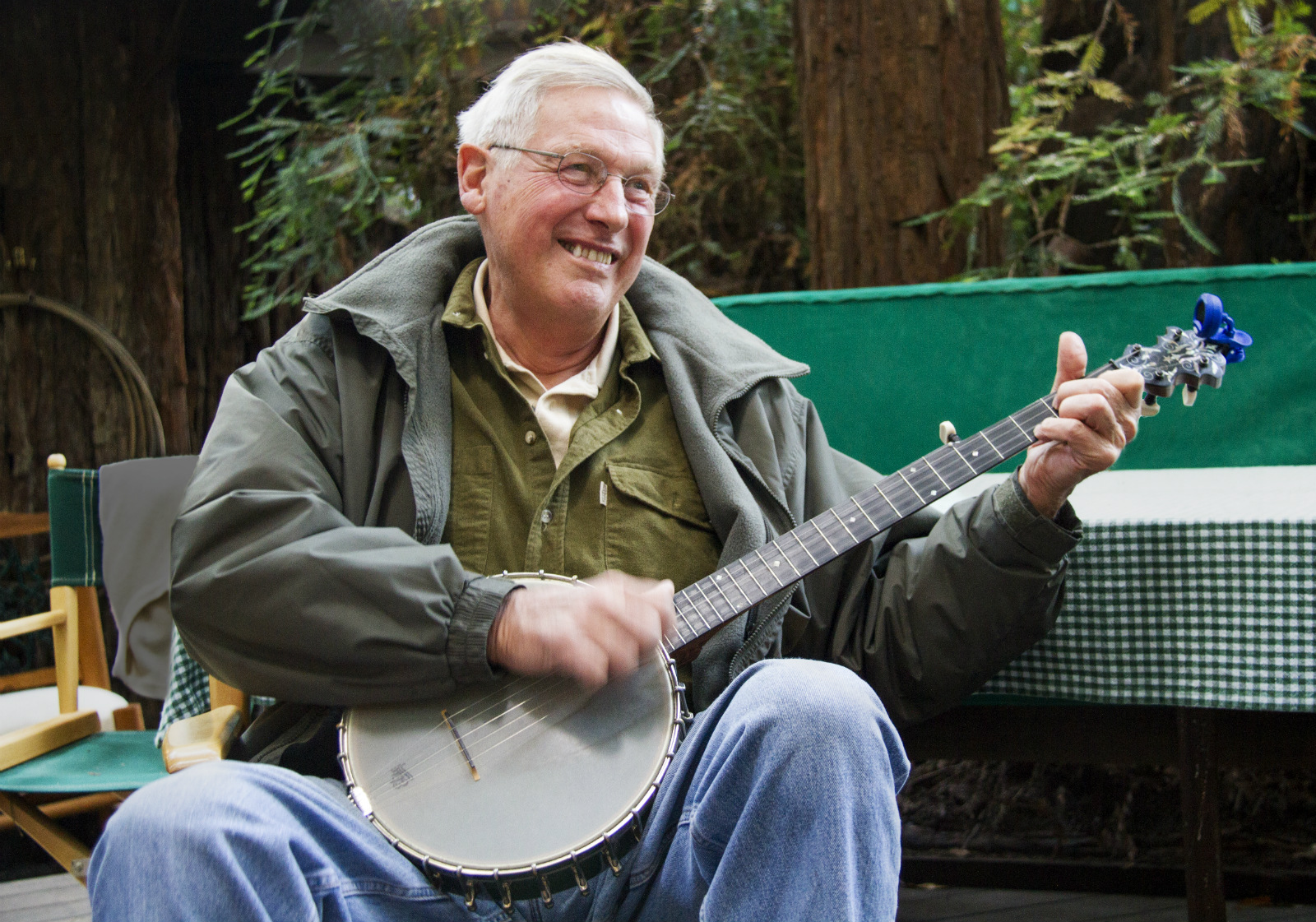 Description:
Down home, Bull-bat is our name for the Common Night Hawk. They fly late every summer afternoon , catching insects until full dark. "Come over around bull-bat time" is an invitation to sit down at the end of the day and relax --- to enjoy the sunset, a drink, and a little music. At my age, I find myself metaphorically in Bull-bat time, but in no hurry, so come have a visit with me at this special time of day. The drink is up to you.
- Walter Forbes, Lookout Mountain GA, June 2014

( If you would rather download individual songs or the whole album, please visit to my page at CD BABY )

Walter has a Facebook artist page. Feel free to check it out for updates and give us a "Like"
https://www.facebook.com/walterforbesmusic

Song Samples linked below
TITLES (mp3 sample highlighted)
3. My Lovely Assistant
4. Carolina Star
5. Origin of the Species
6. The Longer the Waiting the Sweeter the Kiss
8. On a Cold Wintry Night
9. Leaving Is the Loving Thing to Do
10. Don't Forget Me Little Darling
11. The Circus Song
12. When the Roses Bloom Again
13. The L & N Don't Stop Here Anymore
PICKERS


Banjo: Walter Forbes


Guitars: Shawn Camp, Walter Forbes, Mark Howard


Bass: Mike Bub

Mandolin: Mark Howard

Ukulele: Roger Cook


Drums/Percussion: Kenny Malone


Back Up Vocals: Kitty Forbes, Marshall Chapman, Kate Forbes Dallimore


PRODUCED BY: David Ferguson and Jack Clement

Further notes from Walter:
This is my fifth album, two for RCA Victor (1961 & 62), one for Walt Disney (Nashville Coyote, 1973) and one for Jack Music (1993). Since it apparently takes me twenty years to work up an album I think we can safely say that Bull-Bat Time will be my last. I've had an incredible life! Musically I played with the "Third Marine Division Poor Boys Hillbilly Band" in 1957 & 58, The "Lonesome Travelers" with Norman Blake and Bob Johnson 1959-1967,I was a regular guest on the Grand Ole Opry from 1961 to 1973, an RCA recording artist 1961-62, and I was the lead human in the Walt Disney for TV Movie "The Nashville Coyote" (the coyote got top billing and roast beef for lunch). I was blessed with my fifty year friendship with Jack "Cowboy" Clement who kept my professional musical interest alive even while I was running a textile business in Chattanooga. Jack was my publisher as well as my mentor so in 1993 I began what I thought would be a demonstration recording of some songs I wrote. We started having fun, though, so we finished "Tried and True" as an album with Mark Howard as producer and Jack as co-producer. Bull-Bat Time is special to me too because all of the session musicians are people I've know and played music with for years. As if that weren't enough my wife and best friend of fifty two years, Kitty, our daughter Kate Forbes Dallimore (a successful actress in her own right) and my dear friend of many years Marshall Chapman sang the harmonies with me. The album cover art and design are by my grandson Avery Robinson. So this is my album of heart. I also think is is the best of the lot!

and for even more biographical info, go to http://www.WalterForbes.com

---
Return Policy:
Items must be returned within 7 days .
Refund will be given as Money back.
Refund policy details:
Once we get a returned item, we can refund via your payment method.
Shipping:

Destination: United States

USPS
First-Class Mail®
$3.00
$0.50

Destination: Worldwide

USPS
First-Class Mail Intl®
$12.00
$1.00

Insurance:
Not Offered (Domestic)