LEGEND OF THE EIGHT SAMURAI (1983) - REMASTERED
Price:&nbsp
$12.99
---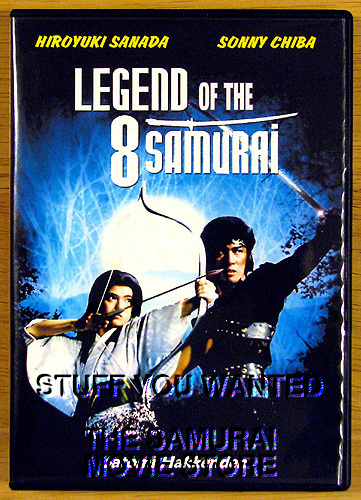 Description:

Legend Of The Eight Samurai is an epic film based on the massive 106 Volume, 1814 epic Japanese novel `Nanso Satomi Hakkenden' by Takizawa Bakin.
The action is superb, compliments to Chiba and the rest of the Japan Action Club with their unique blend of swordplay and martial arts action.

The evil Hikita Clan rises from the dead to fulfill a curse on the Satomi Clan by restoring the face of their Warlord by using the skin of Princess Shizu. In the process of trying to capture her the clan murders her entire family, but Princess Shizu escapes their grasp.
She enlists the aid of eight Samurai Warriors, possessors of powerful crystals, led by Dosetsu, to help rescue the remaining members of her court and avenge her family.
Along the way they must fight undead warriors, evil spirits, poisonous beauties and more.
REMASTERED FOR SUPERIOR PICTURE QUALITY

STARRING: Hiroyuki Sanada, Sonny Chiba

1983 - JAPANESE with OPTIONAL ENGLISH SUBTITLES - COLOR - 16:9 ANAMORPHIC WIDESCREEN - 136 MINUTES
---
Return Policy:
Items must be returned within 14 days .
Refund will be given as Exchange.
Refund policy details:
All DVD's are guaranteed against defects.
Shipping:

Destination: United States

USPS
First-Class Mail®
$2.00
$2.00

Insurance:
Not Offered (Domestic)