FALL OF AKO CASTLE (1978) - REMASTERED
Price:&nbsp
$12.99
---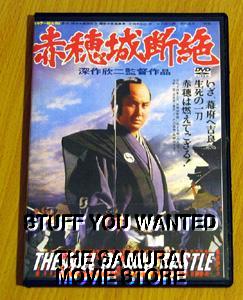 Description:
Ako-Jo Danzetu - This is the only story of the 47 Ronin with truly strong fighting! When the young Lord Asano of Ako Castle draws his sword on his elder, Lord Kira, he is ordered to dissolve his clan and commit seppuku.

With the help of the now-masterless Ako Samurai, Asano's devoted Chamberlain Oishi (KINNOSUKE NAKAMURA) begins to plot an elaborate revenge, two years in the making. As the lines of loyalty and betrayal are drawn, the stage is set for an explosive battle with swordplay choreographed by Sonny Chiba.

Stars: KINNOSUKE NAKAMURA, TETSURO TAMBA, SONNY CHIBA, TOSHIRO MIFUNE

1978 - JAPANESE with OPTIONAL ENGLISH SUBTITLES - 16:9 ANAMORPHIC WIDESCREEN - COLOR - 158 MINUTES.
---
Return Policy:
Items must be returned within 14 days .
Refund will be given as Exchange.
Refund policy details:
All DVD's are guaranteed against defects.
Shipping:

Destination: United States

USPS
First-Class Mail®
$2.00
$2.00

Insurance:
Not Offered (Domestic)