AKUTO (1965) - REMASTERED
Price:&nbsp
$12.99
---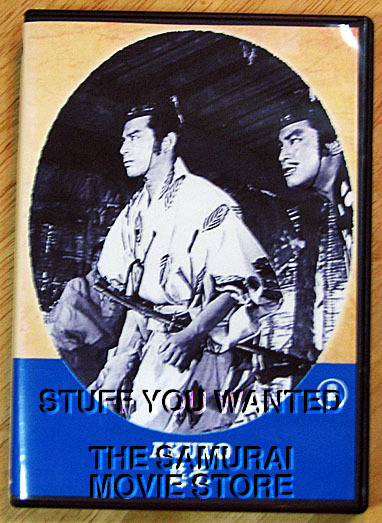 Description:
AKUTO (Scoundrel) - 14th Century Japan, the country is in constant conflict, divided into the Northern Dynasty (Ashikaga Shogunate) and the Southern Dynasty (Emperor Go-Daigo).
The famous Lord Ko No Morono, Governor of Musashi, is lusting after Kaoyo the wife of Daimyo Enya Takasada and spies on her with the help of his Chamberlain Lady Jiju. Lord Morono intends to sleep with Kaoyo at all costs and orders her husband to gather his warriors and leave for battle at the front immediately, sensing trickery Kaoyo leaves with her husband rather then stay in the Capital within the grasp of Lord Morono.
Outraged, Lord Morono declares they are traitors and orders a Brigade of his soldiers to find them and kill everyone except the woman Kaoyo. The soldiers catch up with them and one by one each of the warriors does battle with the soldiers until finally only Takasada is left, he too fights bravely but is soon overwhelmed. A vassal of Takasada then kills the wife because she cannot bring herself to commit suicide. Finally, Lady Jiju brings the head of the woman back to the court of Lord Morono. She holds up the head and starts laughing. The decapitated head smiles.
Based on a story by Jun'ichiro Tanizaki
Director: Kaneto Shindo
Stars: Kyoko Kishida, Eitaro Ozawa, Nobuko Otowa
1965 - JAPANESE with OPTIONAL ENGLISH SUBTITLES - B&W - 16:9 ANAMORPHIC WIDESCREEN - 119 MINUTES
---
Return Policy:
Items must be returned within 14 days .
Refund will be given as Exchange.
Refund policy details:
All DVD's are guaranteed against defects.
Shipping:

Destination: United States

USPS
First-Class Mail®
$2.00
$2.00

Insurance:
Not Offered (Domestic)