CASTLE OF FLAMES (1960) - REMASTERED
Price:&nbsp
$12.99
---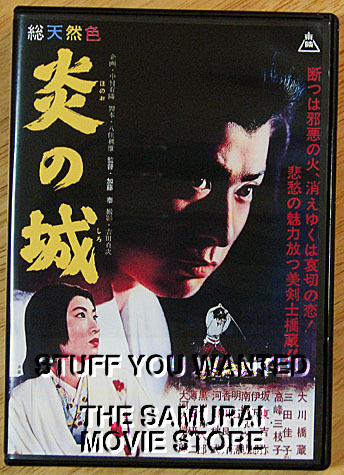 Description:
Hono-o no Shiro - Japanese version of Hamlet - A young feudal Lord seeks revenge after learning his uncle is responsible for his father's death.
Hamlet, the best of Shakespeare's plays has been transformed into an exciting Samurai film 'Castle of Flames', it's the movie that Akira Kurosawa missed out on making. While staying true to the Bard's original vision, the film is also highlighted by one of the finest sword fights that Toei ever put on film.
This amazing motion picture proves that sometimes even the classics can be improved upon. Directed by one of Japan's greatest filmmakers, Tai Kato, along with superstar Okawa Hashizo in the lead, who shines as the young Lord in the grips of tragedy beyond compare.
Director: Tai Kato
Stars: Okawa Hashizo, Denjiro Okochi and Mieko Takamine
1960 - JAPANESE with OPTIONAL ENGLISH SUBTITLES - COLOR - 16:9 ANAMORPHIC WIDESCREEN - 98 MINUTES
---
Return Policy:
Items must be returned within 14 days .
Refund will be given as Exchange.
Refund policy details:
All DVD's are guaranteed against defects.
Shipping:

Destination: United States

USPS
First-Class Mail®
$2.00
$2.00

Insurance:
Not Offered (Domestic)