DATE MASAMUNE: THE ONE-EYED DRAGON (1993) - 2 Disc Set
Price:&nbsp
$19.00
---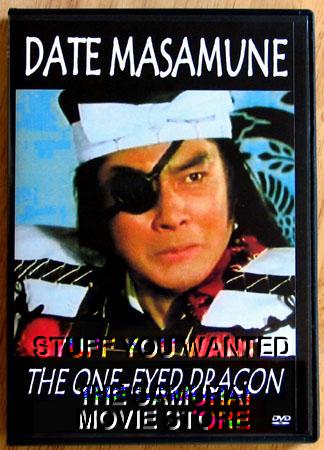 Description:
Young Date Masamune (Takahashi Hideki) upon learning of the death of Nobunaga decides that he will be the man to unify Japan. The fastest way to do this is to subjugate the neighboring warlords. This action results in the death of his father and his younger brother which brings him to the attention of Toyotomi Hideyoshi, but not in a good way.
Luckily intervention by the regents nephew Hidetsugu, and Maeda Toshiie save his neck, although he is forced to move to a smaller fief and must send his wife to Kyoto as hostage.
Although curbed of his lofty ambitions his friendship with Hidetsugu again lands him in trouble when Ishida Mitsunari arranges for the demise of the unfortunate Hidetsugu. Toshiie and Ieyasu save him this time and the flamboyant young warlord is sent to Korea where he wins great honors in battle.
Upon his return Hideyoshi is dead and Masamune allies himself with Tokugawa Ieyasu thus assuring the survival of the Date family.
STARRING: Hideki Takahashi, Masahiko Tsugawa, Kinya Kitaoji, Renji Ishibashi
1993 - JAPANESE with ENGLISH SUBTITLES - Color - Full screen - 240 Minutes - 2 discs - BROADCAST TV QUALITY
---
Return Policy:
Items must be returned within 14 days .
Refund will be given as Exchange.
Refund policy details:
All DVD's are guaranteed against defects.
Shipping:

Destination: United States

USPS
First-Class Mail®
$2.00
$2.00

Insurance:
Not Offered (Domestic)