FURIN KAZAN - NHK Drama - 7 Disc Box Set
Price:&nbsp
$75.00
---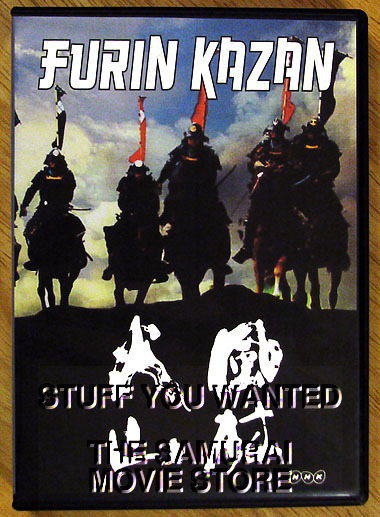 Description:
The 46th NHK Taiga Drama, 'Furin Kazan' deals with the Sengoku or Warring States Period (16th Century) and is based on Yasushi Inoue's novel of the same name.
Lame and blind in one eye, a determined Ronin called Yamamote Kansuke travels about the Warring States of Japan to fulfill his dream; to become a military strategist and help his Lord unite the land.

From his lowly beginnings he withstands insults, danger and hardships and is eventually employed by a young Warlord famously known as Takega Shingen. With Kansuke's skills in diplomacy and the art of war, Takeda Shingen crushes his foes viciously and becomes known as "The Tiger of Kai".
As there is a limit to scheming, Kansuke and Shingen eventually face off with an equally powerful foe called Uesugi Kenshin, a neighboring Warlord obsessed with justice and known as "The Dragon of Echigo". In the massive battle of Kawanakajima, the brave deeds of these three men become forever sealed in history.
Starring: Uchino Masaaki, Ichikawa Kamejiro, Sonny Chiba, Ogata Ken, Nakadai Tatsuya, Gackt

2007 - JAPANESE with ENGLISH SUBTITLES - COLOR - FULL SCREEN - 50 EPISODES on 7 DISC's
Note: After each episode is a short documentary describing the modern-day sites of the battles/castles/shrines portrayed in the series.
---
Return Policy:
Items must be returned within 14 days .
Refund will be given as Exchange.
Refund policy details:
All DVD's are guaranteed against defects.
Shipping:

Destination: United States

USPS
First-Class Mail®
$2.00
$2.00

Insurance:
Not Offered (Domestic)