A CHORUS OF CICADAS (2005)
Price:&nbsp
$12.99
---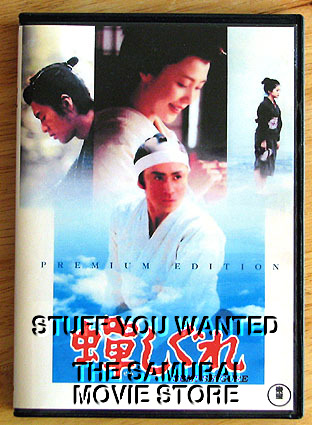 Description:
Semishigure - Bunshiro, a young samurai finds himself on the wrong side of clan politics when his father is accused of plotting against the clan and forced to commit seppuku.

He and his mother soon find themselves evicted from their home and forced to live in a shack. But Bunshiro is a talented swordsman and after a time he is reinstated and becomes a magistrate, filling the same job as his father.

As he tours the countryside he discovers the political maneuvering which led to his fathers death is still widespread, and his childhood love who is now one of the lord's concubines has become an unwilling pawn. She has given birth to a boy and a rival faction has decided to kill the boy and blame Bunshiro.

Based on a story by Shuhei Fujisawa, who also wrote the stories "Twilight Samurai" and "Hidden Blade", SemiShigure is a personal and intimate portrait of the life of a lowly ranked samurai.
If you like "The Twilight Samurai", you will definitely appreciate this one by the same original novelist and with the similar appreciation to the Japanese inner beauty. Stunningly beautiful cinematography and realistic and exciting sword action make this a must see!

STARRING: Ichikawa Somegoro, Kimura Yoshino, Imada Koji, Fukawa Ryo
2005 - JAPANESE with OPTIONAL ENGLISH SUBTITLES - 16:9 ANAMORPHIC WIDESCREEN - 5.1 SURROUND SOUND - COLOR - 130 MINUTES
If you like this, you might also be interested in... Bunshiro and Fuku
---
Return Policy:
Items must be returned within 14 days .
Refund will be given as Exchange.
Refund policy details:
All DVD's are guaranteed against defects.
Shipping:

Destination: United States

USPS
First-Class Mail®
$2.00
$2.00

Insurance:
Not Offered (Domestic)