DEAD ANGLE (1979)
Price:&nbsp
$11.00
---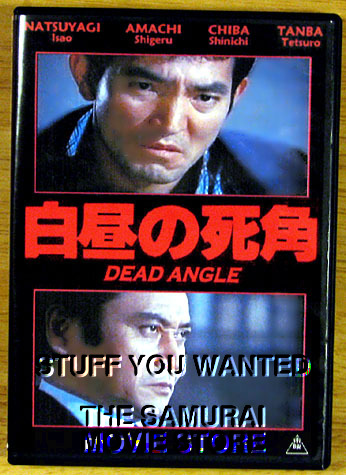 Description:
Hakuchu no Shikaku - An extraordinary group of action stars join up together as elite college graduates in the 1950's who commit perfect financial crimes through legal loopholes.

Starring the great Natsuyagi Isao and Chiba Shinichi, along with legendary samurai star Amachi Shigeru. As with all things in life, nothing is perfect. Will justice prevail or is there really a perfect crime?

Edge of the seat suspense highlights this superb crime drama!
Stars: NATSUYAGI Isao, SONNY CHIBA, TAMBA Tetsuro
1979 - JAPANESE with ENGLISH SUBTITLES - COLOR - WIDESCREEN - 154 MINUTES
---
Return Policy:
Items must be returned within 14 days .
Refund will be given as Exchange.
Refund policy details:
All DVD's are guaranteed against defects.
Shipping:

Destination: United States

USPS
First-Class Mail®
$2.00
$2.00

Insurance:
Not Offered (Domestic)