BLIND WOMAN'S CURSE (1970) - REMASTERED
Price:&nbsp
$12.99
---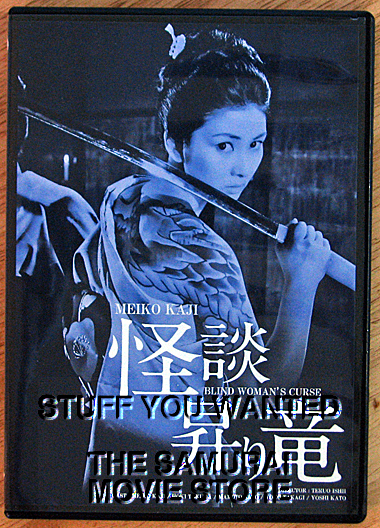 Description:
Kaidan Nobori Ryu (aka Black Cat's Revenge) - Director Teruo Ishii delivers a bizarre hybrid of Japanese horror and yakuza genres.
During a battle with a rival clan Akemi accidentally blinds Aiko Gouda when the blade of her sword cuts Aiko's eyes. At that very moment a black cat appears out of nowhere and laps up Aiko's blood. Akemi believes that the cat's drinking of the blood means that she is now and forever cursed.
Years later a mysterious blind woman arrives in town and shortly thereafter those close to Akemi are murdered. Is Akemi really cursed or is this blind woman behind these devious acts against Akemi's clan?
Director: Teruo Ishii
Cast: Meiko Kaji, Toru Abe, Makoto Sato, Hideo Sunazuka, Yoshi Kato
1970 - JAPANESE with OPTIONAL ENGLISH SUBTITLES - COLOR - 16:9 ANAMORPHIC WIDESCREEN - 85 MINUTES
---
Return Policy:
Items must be returned within 14 days .
Refund will be given as Exchange.
Refund policy details:
All DVD's are guaranteed against defects.
Shipping:

Destination: United States

USPS
First-Class Mail®
$2.00
$2.00

Insurance:
Not Offered (Domestic)