TUMMYTOYS BODY JEWELRY SILVER BELLY RING RED CZ HEART
Retail Price: $77.95
You are viewing a beautiful TummyToy Navel ring made of solid silver with a white CZ heart surrounding a beautiful ruby colored heart CZ, The Charm is 1/2 inch long (13mm) Total Length of TummyToy is 1 1/16 inch (26mm). Now you can coordinate your earrings to match your belly jewelry too! See our STORE for the matching earrings!

TummyToys is known and respected for beautiful fashion forward jewelry We have added the earring line to offer our customers what they want. If you want something made like a matching pendant please contact us at 617-997-4427 or info@tummytoys.com

Money back guarantee.

You have 30 days to return any purchases. Proudly designed and made in the USA.

Below is more information on the TummyToys Body Jewelry, History, Returns and shipping costs.

See how TummyToys work watch our demonstration video: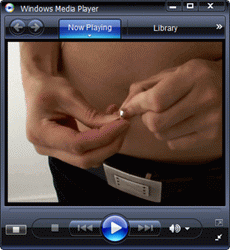 Barbaric barbell banished!
Introducing the revolutionary TummyToys®: The only snap-closing belly jewelry on the market!
Self-locking Clasp

No more balls to fiddle with and lose. One snap and you're done.

Easily removable in about a second.

Clasps are solid precious metals: gold, silver, platinum and palladium. All nickel-free- no plating!

Standard 14 gauge (1.6mm).

7/16 inch long (13.5mm).
Money back guarantee. If you are not happy, we are not happy. Our return policy is 30 days unconditional money back, for any reason. After the 30 days, let us know if you have a problem and we will take care of you. Proudly designed and made in the USA.
TummyToys are patented and have a registered trademark.
Check out my other items and visit my STORE.
Here's how it works:
Just open up the TummyToy clasp, slide it through your piercing and snap it shut.
You are done! It is secure and yet easy to remove.
TummyToys are available in nickel-free silver, 14k yellow, white, and rose gold. We also manufacture the clasp in platinum and palladium! Apart from our full line of TummyToys we can custom make almost anything. Just ask!
All TummyToys are packaged in a lovely gift bag and tissue paper so they are ready to give as gifts. Send them directly to loved ones and friends. We will be happy to enclose a gift card upon request.
Our return policy is 30 days unconditional money back, for any reason. After the 30 days, let us know if you have a problem and we will take care of you. We want you to be 100% happy with our product. We are very proud of our feedback! You may reach us at (617) 997-4427.
History of TummyToys®
Navel piercing has been around for years and so far, all that has been available is a steel rod with a screw-thread on the part that goes through your piercing- jewelry that can be extremely painful to insert and to wear. Complicating matters further is trying to secure the body jewelry by twisting a 3mm ball onto the 1.6mm threaded rod, all while bending over to look at your navel so that you can try to see what you are doing!
Enter TummyToys, the brainchild of myself, Melissa Tyler. A graduate gemologist, I have studied both in the UK and the US. Now Boston is my home base. I had many friends who wore (and complained about) belly jewelry, so I had to take the piercing plunge to figure out the concept. I just couldn't get my head around it until I got my own piercing. It was like an awakening! Within a week of being pierced I had a notebook full of sketches and TummyToys was born.
With a patented clasp, TummyToys eliminate the hurt and hassle of traditional body jewelry. The TummyToys clasp is so simple: You just slide it through the piercing and snap it shut. We offer TummyToys in a variety of metals and styles sporting everything from martini glasses to elegant precious and semi-precious stones. TummyToys are specifically made for belly and body piercing. Beware of cheap imitations which are really just earrings with a heavier post. Insist on the original TummyToys!!!
TummyToys are available in select retail stores and on eBay!
-Melissa: Chief Navel Officer and inventor, TummyToys®
TummyToys® are proudly designed and made in the USA!
Welcome to our eBay store!
To make your purchase as simple and easy as possible, please refer to the store policies listed below. After winning an item in auction or completing a Buy It Now purchase, you have two check-out options:
Check-Out Now! Click the Pay Now button at the top of this listing to immediately proceed with our checkout and payment process. Please note that the Pay Now button is ONLY available after winning an auction or completing a Buy It Now purchase.
Check-Out Later If you do not choose to Check-Out now, you will be notified by eBay via e-mail that you are the winning bidder. There is no need to contact us to arrange payment. We will automatically send you an e-mail within three hours of an auction closing. Our message will contain a link to our simple and secure checkout system, where you will be able to quickly and conveniently pay for your purchase.
You may also continue purchasing additional items from our auctions or eBay store. You have 7 days from the end of the first purchase to add additional items to your order. Make sure all of your auctions have ended prior to checking out. All of your purchases will be consolidated into one checkout with any one shipping fee!
Payment
We accept the following forms of payment.
PayPal (American Express, Discover, Bank Transfer, MasterCard & Visa)
Sales Tax
For shipments to Massachusetts addresses, we are required by State law to collect 6.25% Sales Tax.
Lost Packages Please contact your post office first and tell them that your package has not arrived. Give them the tracking number or customs number and file a complaint. Please then forward us the post office contact information, name and phone number of your Post Master. We will file a complaint on our end and then start the insurance process.
We use 1st Class mail in the USA & Canada, Overseas US 1st Class Air mail $3.25,

ALL Non US orders MUST BE INSURED A $3.00 fee is automatically put on these packages.

ALL NON US SHIPMENTS WILL HAVE TO PAY DUTY AND IS THE RESPONSIBILITY OF THE BUYER.

Please do not ask us to commit mail fraud by marking package with little to no value. We ship within 24 hours or sooner of your cleared funds. We also ship by priority mail, global priority mail, and next day air if required (excluding weekends & Holidays). First Class Mail Can Not be tracked outside of the USA. Please contact us if you have shipping questions info@tummytoys.com or 888-488-6698
TummyToys
100 Marginal Street
East Boston, MA 02128
(617) 997-4427