*Mouse Over--Use Scroll Tool see ALL the Pictures,Refresh if need be*

*There are MANY Pictures Above*

WE SELL WORLD WIDE

....and have the Experience to get it to You- Wherever you are! Just Ask!

___

2008 iCamp Elite

If you may be interested in this awesome Trailer ,please be sure to read the add in full as there in alot of useful information on the Item and about the Auction that you will need to know, time and again we get bidders that are non-productive and this cost us Time and Money, we thank you for understanding and happy Bidding!

*Be sure to inspect All of the photos provided*

If there is any questions you may have "AT ALL" please do not hesitate to ask,there is only one way to purchase an item on Ebay and thats Trust,Comfort and Communication

Give Me a call...

I would Love to Talk to You

727-692-1151

Matt M.

United Recreational Vehicles, LLC (URV) is dedicated to providing high-quality RVs to customers. URV is the registered and sole representative for CenTech Specialty Vehicles Co., Ltd. (CenTech) in the United States. Based in China and established in 1995, CenTech is the largest manufacturer of specialty vehicles and RVs in Asia. Its RVs are sold in countries across the globe, such as Australia, France, Japan, South Africa and the US.

iCamp Elite Overview

From inside and out, iCamp Elite has created an entirely revolutionary new class of recreational vehicles. Its stylish design and manufacturing techniques bring a contemporary life style to the people who love camping and the outdoor life.
iCamp Elite is a fully laminated travel trailer. The body is reinforced with aluminum tubing frames. High gloss fiberglass skin is laminated over structural Styrofoam made by the Dow Chemical Company. The interior walls are covered with wall paper for luxury and easy care. The furniture is sandwich structured made with solid wood and finished with semi-gloss PU paint for style and durability. The furniture is curved with a style and for the most space usage.
iCamp Elite is equipped with most classic travel trailer amenities. Best of all, it is equipped with a spacey one piece modular bathroom with shower and toilet.
Light weight construction and aerodynamic design is prefer for todays low fuel consumption.

Be sure to inspect the above slide show-

for MANY Pictures of this Item

iCamp Elite Specifications

| | |
| --- | --- |
| Overall Dimensions (L×W ×H) | 14'×6'8"×8'1" |
| Inner Dimensions ( L×W×H) | 10'7"×6'3"×5'11" |
| Inner Area ( sq. ft.) | 70 |
| Tare Mass ( lb) | 2,366 |
| Max Mass ( lb) | 2,890 |
| HitchWeight (Standard Eq.)(lb) | 236 |
| Capacity | 2-3 people |
| Axle | 1 |
| Tire Type | 205/70R14 |
| Braking | Electric Brake |
·Powder-Coated Steel Frame
·Rubber Torsion Axle
·2" Ball Hitch Towing Bar with Safety Chains
·Electric Brakes
·Aluminum Entry Step
·Entry Door with Screen
·Laminated Structure Foam Body with Aluminum Frame
·Front Pulling Handles
·Gelcoat High-Gloss Fibenglass Exterior Skin
·Four Layer Laminated Floor
·Glass Slider Windows with Screen
·High Gloss Finish Vacuum-Formed Cabinets
·Dinette/Bed with Adjustable Table
·OverHead Cabinets
·Counter with Stainless steel SINIC and lp-burners
·Wardrobe
·Modular Fiberglass Bathroom
·Marine Toilet
·Fresh Water Tank (22gal)
·Gray Water Tank (14gal.)
·Black Water Tank (6gal.)
·LP Gas Detector
·Smoke Detector
·3-Way Refrigerator (1.9 CF)
·Hot Water Heater( 6 gal)
·Tap/Shower H/C Water Tap
·Porch Light
·Interior 110v AC Power Outlets
·Interior Lights
·Battery Connection Set-Up and Cut Off Switch
·Fiberglass Exterior Wall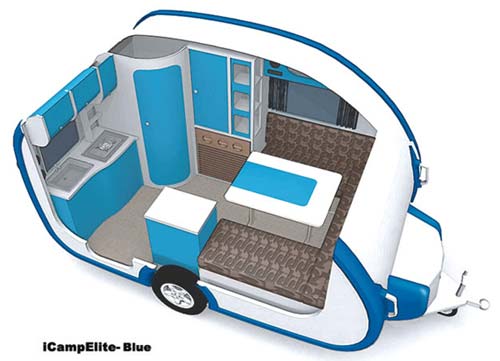 This Trailer came to us by a Local bank that took Repossession of it- We have sold Travel trailers in the Past and are Not strangers to them At All! We Inspected it to the Best of our Knolage- As we Do all out Items and found it to be in GREAT Condition. This RV looks Amazing! if you have ANY Questions At ALL
Please Call me Directly or Email
:-)
Just 15ft long and so light and maneuverable that you can usually move it around by hand.
I'd say Many mini vans and Cars can also pull them.
*ask about Shipping*
We have the Ability to get it Done!
Questions? Concerns? Anything at All?
Phone calls are my preference,this is the way the World has been doing it for a long time running,its faster,its more productive IT WORKS BEST!
727-692-1151
Matt M.
We are a florida Boat Dealer that doesnt Deal with Junkers.
We inspect every item. We Own every Item. We are NOT Brokers
Been in the bizz for over 35 years Strong and aren't going anywere, We Sell Clean-Shiny Boats! G
ive our best on every deal period...we beat the market value price with every sale.
surveys and mechanic inspections are welcome,
This Item is For Sale and We Can End the Auction at Anytime
ATTN: Please Read All
by Using the BUY IT NOW option-You are Purchasing the item...if you donot understand or want information on this we Highly suggest that you Contact us by Phone Only! Thanks
All our Items are advertised with the thought in mind to Disclose All angles with Many Pictures and Videos,we do our Best and are Complimented from customers on our Accuracy and the Amount of information we Supply!
We do our Best,But Please!
Ask about any questions or concerns you may have on the auction or the item before you bid or buy,this auction cost us time and money so please be sure to Call or Email so we can tend to your needs-also Remember,though all our Items are in Great shape, they are Not brand new! Do Not asume they are in anyway. Make sure you are informed about the terms of the auction and the item...all is sold as is,where is. Mechanics inspections/Surveys are always Welcome and invited. All items are addvertised to the best of our knowledge, So if you are concerned with anything- Please ask if Need be Before Auction End or Purchasing
this item is Located in...
St. Petersburg,FL
We can Haul this item anywhere in the USA-Door to Door