Regaine is the Upjohn brand of minoxidil, which is sold in New Zealand and the UK, and is the same as Rogaine sold in the US. Scientists believe that 95% of the hair loss seen in both men and women is caused by a progressive condition called Androgenetic alopecia, or common hereditary hair loss Regaine (also known as Rogaine in some countries) is a medicine that is the first and only product proven to regrow hair, reduce hair loss, and thicken existing hair. Hair regrowth takes time, at least 4 months' treatment is usually necessary. Regaine is non-greasy and unscented and will not colour your hair. Regaine is a topical solution containing the active ingredient

Studies have shown that solutions of minoxidil are effective in promoting hair growth in individuals with male pattern baldness.

Mode of Action:

Evidence suggests that minoxidil promotes hair growth by increasing matrix cell proliferation and by prolonging the alagen phase. Higher concentrations appear to be more effective in promoting hair growth.


What is Minoxidil?
Minoxidil was originally developed to treat high blood pressure. It is use for teating thinning hair was originally discovered when it was noted to cause increased hair growth as a side effect of this treatment. Topical Minoxidil is now the most widely recommended treatment for androgenetic alopecia.
How Minoxidil works?
How minoxidil works to grow hair is somewhat of a mystery. Since it was originally a blood-pressure pill and because it is a vasodilator it was thought that it worked by increasing the amount of blood to the hair follicles. However other vasodilators do not stimulate the same response so that it is now thought that minoxidil works by a different mechanism. Recent studies have shown that topical minoxidil does not cause an increase in skin blood flow which was originally though to be the mechanism by which minoxidil works. Studies carried out by L'Oreal recently suggest that minoxidil works by activating PGHS 1 (prostaglandin endoperoxide synthase-1) which helps promote hair growth.
How effective is topical minoxidil?
Topical minoxidil has been shown to be effective in both men and women. Clinical tests that were conducted by 27 US medical centers involving over 2,300 patients with male pattern baldness on the top of the head showed that after one year of use
48% of the men who had used minoxidil for one year rated their regrowth as moderate to dense.
36% of men who had used topical minoxidil for one year rated their regrowth as minimal
16% of men had no regrowth.
In tests carried out to evaluate the effectiveness of topical minoxidil on women almost two out of three women were evaluated by physicians to have regrown some hair.
How long do I need to use Minoxidil for?
Hair regrowth with topical minoxidil takes time. While some individuals see results faster than others, studies show that at least 4 months of treatment is generally necessary before there is any evidence of regrowth with topical minoxidil.
If treatment is successful the first thing you will notice is less shedding within 90 days of beginning treatment. This is because minoxidil may prolong the growth phase of the hair cycle, thus increasing the number of follicles in the growth phase at the same time.
New growth may be soft, downey and barely visible at first. This can be an encouraging sign because it shows that minoxidil is actually stimulating regrowth. If you continue to respond with further treatment the soft downey gowth may change into hair of the same colour and thickness as the other hairs on your scalp.
Application:
The recommended dosage is 1 ml applied twice daily to thinning areas of the scalp. The use of topical tretinoin in conjunction with minoxidil appears to increase the beneficial effects of minoxidil.
Hereditary hair loss is extremely common around the world. While there are many causes of hair loss, hereditary hair loss accounts for about 40% of all cases. The good news is that Regaine®can help.
Regaine® was the first available clinically proven treatment for hereditary hair loss. Tests have shown it helps slow or stop hereditary hair loss in up to 4 out of 5 cases for the men and women who use it. That means there's an excellent chance it can help you too.
What's more, with our Extra Strength treatment, you can start seeing results in as little as 8 weeks.



It's easy to recognise the typical pattern of hereditary hair loss. Your hair starts to become thinner and lighter on the crown and the temples. The hairline begins to recede forming an M shape, but the sides and back stay pretty much the same.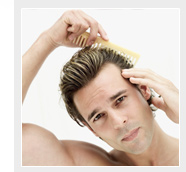 Hair loss is a completely natural process. It's normal to lose 50 - 100 strands a day. These strands fall out because a new hair is growing in the follicle underneath them and effectively pushes out the old hair.
However, for a huge number of people around the world, this process changes and they start to lose more hair. There can be many reasons for this, such as surgery, severe stress or anxiety, certain health conditions or medication and poor hair care.
But by far the most common cause is hereditary hair loss, also known as common baldness and male pattern baldness.
With hereditary hair loss the hair follicles are miniaturised by genes and hormones. As a result, the new hair becomes so short and thin it's often invisible to the naked eye.
Eventually, the hair follicle shuts down completely.

The 3-stage diagram of the process of hair loss.

Myth: If I want to know whether I'm going to lose my hair, I should look at my mother's family.
Fact: The genes for hereditary hair loss are carried on both sides of the family. And the tendency to hereditary hair loss can skip generations. So the best advice is to look at all the men and women in your family. If they all have full heads of hair, it's likely you'll keep yours.
Myth: If I take special dietary supplements I can prevent hair loss.
Fact: In most cases, hair loss is due to your genes and the way the hair follicles respond to male hormones. Although severe malnutrition can bring on hair loss, it most likely won't be hereditary hair loss. However, a poor diet can bring on predestined hereditary hair loss earlier than expected.
Myth: Will colouring my hair cause hair loss?
Fact: Many hair treatments (such as bleaching and colouring) can be hard on your hair. Occasionally, if the chemicals are too strong they may cause the hair to break off near the scalp. But no hair treatments will cause hereditary hair loss.
Myth: There is nothing available that helps stop hereditary hair loss.
Fact: Regaine® is clinically proven to treat hereditary hair loss. When used correctly is has been shown to help slow or stop hair loss in up to 4 out of 5 users and encourage new hair growth in some users.

Clinical trials show that Regaine® can help stop or slow hereditary hair loss in up to 4 out of 5 users - some of whom even regrow hair. This makes it the trusted treatment choice of over 5 million people worldwide.


Scientists who researched Regaine® believe that it works by increasing the supply of blood and nutrients to the hair follicle.
In the early stages of Regaine® use, old hairs may fall out, making way for new thicker hairs - so hairs falling out at first may be a good sign!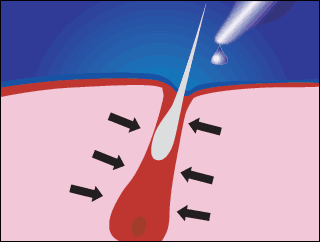 | | |
| --- | --- |
| 1. | Apply Regaine® twice a day. |
| 2. | Regaine® stimulates the hair follicle. |
| 3. | Dead hair falls out. |
| 4. | New hair grows. |
| 5. | With further Regaine® treatment, thicker regrowth is likely. |

Can you answer 'Yes' to all these questions?

Do you answer 'Yes' to any of these questions?

Do you have a family history of hair loss?
Have you been losing hair for less than 10 years?
Do you have a balding area that is less than 10 cm in diameter, with some remaining hair growth?
Do you have hair loss at the front of your scalp or on the crown?
Are you over 18 and under 65 years of age and in good physical health?

Regaine® is for you.

Has your hair loss been sudden and unexplained with no family history of it?
Is your scalp red, inflamed, irritated, infected or painful?
Have you ever had an allergic reaction to Regaine® or any of its ingredients?
Are you under 18 or over 65 years of age?
Are you taking any blood pressure medication?

Unfortunately, Regaine® isn't for you.

Regaine® is clinically proven to help slow or stop hereditary hair loss in up to 4 out of 5 people.

Some users will even grow new hair.

Regaine® Extra Strength may work in as little as 8 weeks of treatment. The Regular Strength treatment works after about 4 months.

The active ingredient in Regaine® is minoxidil, which has undergone extensive medical testing for safety and effectiveness.

It's thought that Minoxidil works by increasing the supply of blood and nutrients to the hair follicle. This helps strengthen existing hair and in some cases can stimulate secondary growth.

Regaine® was first available in Australia in 1992. Since then over 5 million people have used it worldwide.

You're choosing the world's first clinically proven hereditary hair loss treatment because you want results. And by following our 7 simple rules, you should start to see them in weeks.

1. Use Regaine® regularly. It must be used twice a day to be effective. To help you remember, try making it part of your daily routine - when you clean your teeth, for example.
2. Use it properly. Regaine® differs from other hair products because it works on the scalp. To help it soak into the scalp properly, it's best used on a dry scalp and at least half an hour before you go to bed.
3. Don't miss any applications. You can 't increase your success rate by using it more often. Nor can you make up for a missed treatment by applying more the next day. So, if supplies are running low, make sure you stock up early to continue the treatment uninterrupted.
4. Be kind and gentle to your hair. Click here for our top hair care tips.
5. Be patient. Treating hair loss naturally takes time. With Regaine® Extra Strength, results may be seen in as little as 8 weeks. For the Regular Strength treatment, you can expect results in about 4 months. If you miss applications, it will take even longer!
6. Be confident. Regaine® is clinically proven to work for up to 4 out of 5 people. 'Clinically proven' means the regulatory authorities have evaluated its quality, safety and efficacy data and granted approval for the product.
7. Think positive! You know now just how effective Regaine Regular and Extra Strength treatments are. So, stop worrying about hair loss. The chances are Regaine® will work for you.


After using the Extra Strength treatment twice a day for 2 months or the Regular Strength for up to 4 months, you should find that your hair loss has stabilised. In some cases, you may begin to notice some new hair growth.
The new hair probably won't look like your normal hair at first. It will probably be soft, downy and barely visible. After continued treatment, you may notice this new hair change and become the same colour and thickness as the rest of your hair.
You will need to continue to use Regaine® in order to keep the new hair and also to stop additional hair loss.
Two to six weeks after starting treatment you may notice you are losing even more hair. Don't be alarmed - this is completely normal. It's because the new hair is pushing out the old. See The reasons for hair loss section for more info.
If after 6 months of using Regaine® no hair growth is seen, you should talk to your pharmacist or doctor about stopping the treatment as any gain from continued treatment is likely to be small.


If you had regrowth when you were using Regaine® and you chose to stop the treatment, your hair won't suddenly fall out. You'll find that any new hair you may have grown disappears within 3 to 4 months and your original pattern of hair loss will start again.
The most important thing is that it is your decision to treat your hair loss or to stop treatment. You can choose when you are ready to let nature take its course.
How to Use the 3 Tip Head

Pump Spray Adapter

This applicator works best for applying
Regaine Extra Strength to large areas of the scalp.

.

Rub On Applicator

Works best on small areas of the scalp.

Extended spray tip applicator

Best for small areas or under hair.

(Specifications are subject to change without prior notice)