Sign Up Now
Vendio Buyer Appreciation

Build an ongoing relationship with your customers from the first interaction.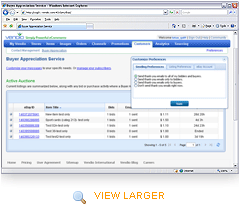 Keeping your buyers engaged throughout the sales cycle is key to winning loyal customers and repeat business. Shopping online is largely anonymous by nature, and building loyalty without personal interaction is difficult. Buyer Appreciation keeps you actively involved in the sales process by providing relevant, timely, and personalized messages to both bidders and buyers as they shop and after the purchase is complete. Automate the time-consuming process of personalized customer communication, and cross-promote items intelligently with Buyer Appreciation.

Buyer Appreciation is included in all Vendio Platform plans, and can be used as a stand-alone application.

Start building customer relationships now. Give your customers the attention they would receive in a brick-and-mortar store.
Drive more sales through cross-promotion: Thank your bidders via email, and send a showcase of related products.
Grow your mailing list: Motivate bidders to opt-in to your mailing list by offering access to special promotions or new merchandise previews.
Adhere to CAN-SPAM and eBay policy: Bidder email addresses are not recorded or stored unless they opt-in.
What Buyer Appreciation Users Are Saying:
"Vendio has once again provided us with the most successful auctions we have conducted. Thank you!"
- Stan Hoffman, online seller