Sign Up Now
Vendio Reviser

Vendio Reviser makes it simple to change your live auctions, and make changes to your product listings.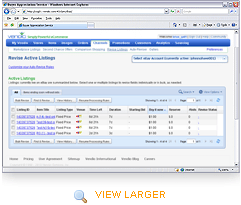 Revising prices is a cumbersome task. But sometimes revising a listing can make the difference between a closed sale and a lost opportunity. With Vendio Reviser on your side, you can meet your customers "where they are" and dramatically increase sell-through. With Vendio Reviser, online sellers can easily and automatically reduce prices or reserves for no-bid products close to ending, and much more.
Make changes to live products and listings: Reduce prices, reserves, and BINs for products with no bids. Ensure successful sales, even on products where relisting credits are at risk.
Maximize the visibility of your products: Edit your titles and subtitles, and add eBay marketing features on-the-fly. Increase your visibility so buyers see your products instead of the competition's.
Make automatic revisions: Set up simple rules and Vendio Reviser will do the hard product revision work of automatically finding live products with specific criteria, and making the associated changes.
Find and Revise: Make a single revision to a group of live products easily with a few mouse clicks.
Bulk Reviser: Make multiple revisions to a group of live products with Vendio's winning Bulk Reviser feature. Edit all revisable fields for up to 50 products on a single page, and make bulk changes and updates quickly.
What Vendio Reviser users are saying:
"We have been using Vendio for the past 6 years and with the volume of products we list and revise, it has been essential."
- Cory Empens, online seller