Sign Up
Wholesale Sourcing by AliExpress

Buy products at low wholesale prices on AliExpress.com. Shop for the lowest price on hot items, and find the best supplier to provide them. Make purchase online with a secure, protected system, and obtain the peace of mind that comes with using a trusted partner.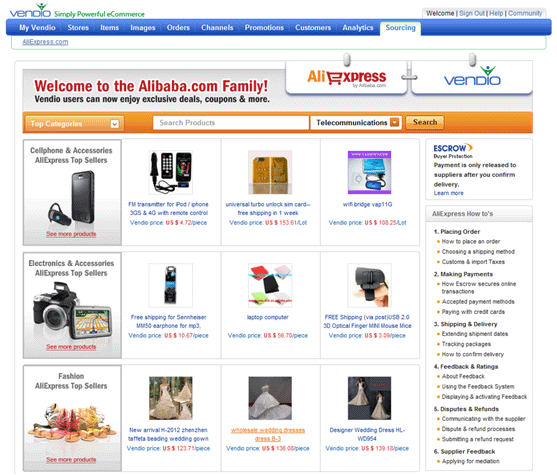 Free: AliExpress is free and integrated with Vendio to provide an easy wholesale shopping experience. Vendio merchants also receive exclusive deals and benefits.
Fast Shipment: Merchants seeking fast shipments of small quantities of goods can use AliExpress and choose how the products should be shipped.
Buy from Manufacturers: AliExpress enables you to work directly with manufacturers and drive profit margins. Chat online or email directly before purchase.
Negotiation Assistance: Vendio merchants will receive help negotiating prices. A dedicated AliExpress account representative will work as a liaison between you and the supplier to procure the best products at the best prices.
Simple and Secure Orders: Buying wholesale has never been easier. Add products to your cart and checkout. Pay by PayPal or credit card. All AliExpress transactions have Buyer Protection - this means that the money is only released to the supplier once you've confirmed delivery of your products.
All Vendio merchants get exclusive AliExpress benefits. Just sign up, and you can create a free Ali Express account under the Sourcing tab.